Temnozor es el nombre de dos bandas, ambas rusas de Folk / Black Metal, siendo famosa la formada en Obnisk (Rusia) en 1996. Inicialmente su estilo se podía encuadrar dentro del Raw Black Metal con influencias folk, pero pronto fueron tomando más fuerza estos elementos folk. Sus letras versan sobre el folklore tradicional ruso, el paganismo, la naturaleza y el desprecio al monoteismo. Realmente como grupo no se sabe cuanta gente son, se dice que hay mas de 10 personas implicadas en el proyecto, entre ellos Kaldrad Branislav de Branikald.
Tracklist:

1. Folkstorm of the Azure Nights (08:42)
3. When the Lazure Skies Tear the Hearts Apart (07:52)
4. Watch The Falcon Fly (04:41)
5. As the Autumn Razor sing above my Veins (07:20)
7.Tell me, ye Scarlet Dewscented Sunrises (05:36)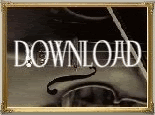 AGRADECERÁS CADA DESCARGA O SERÁS CENIZAS!