Existe algun disco de Rhapsody of Fire que sea flojo? Imposible, los caballeros del power metal sinfonico que han tenido que agregar un par de palabras a su nombre, nunca alteran la esencia fantastica de sus Cronicas de Algalord y sus impecables sinfonias power y neoclassicas siguen creciendo fastuosas y rozagantes a medida que pasan los años.No soy exagerada si digo que su obra de acaricia la perfeccion musical.
Tracklist:
01. Dar-Kunor
02. Triumph or Agony
03. Heart of the Darklands
04. Old Age of Wonders
05. The Myth of the Holy Sword
06. Il Canto del Vento
07. Silent Dream
08. Bloody Red Dungeons
09. Son of Pain
10. The Mystic Prophecy of the Demonknight
11. Dark Reign of Fire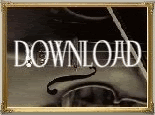 SIN CONTRASEÑA!
AGRADECERÁS CADA DESCARGA O SERÁS CENIZAS!